RWMAP – Map driven – wafer inspection system
RWMAP is the complete microscope inspection system for wafers with full map management.
It is composed by a motorized microscope XY and Theta stage, an inspection camera, a control system and a state-of-the-art graphical software.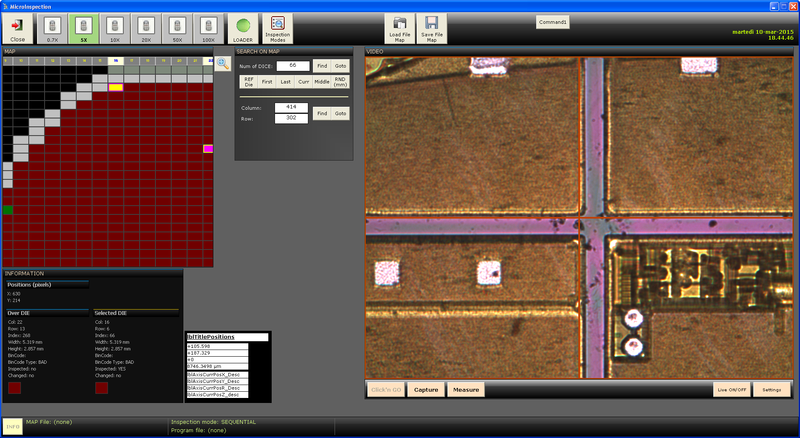 This system includes a special motorized X/Y/R precision stage which can be mounted on semiconductor specific microscopes (e.g. Leica DM8000), an image acquisition system and a state-of-the-art  inspection software.
It is possible to identify and download wafer maps, inspect wafer dice and modify each die BINCODE, save and store pictures, take measures with exceptional resolution, scan wafers and much more.
Software includes Semi M12-M13 OCR, wafer identification, an alignment procedure and a powerful set of inspection strategies and tools.
Sequential scan or direct access to any dice, as well as programmed paths or dedicated sampling strategies are included into the system, to allow the inspection at any process phase, from bare substrate control to back-end.
A measurement and image documentation system is included to allow a precise and traceable inspection.
All functions can be easily configured to be used in any working environment, with or without remote download and upload of wafer maps.
SECS/GEM is available as an option for full factory automation and  safer wafer handling.
RWMAP can be used stand alone (with manual loading accessories) or together with one of our wafer loaders, to compose a complete wafer defect review stations.
Even if it has been designed with Leica Microsystems DM8000 in mind, it can be used with microscopes of several brands like Nikon, Olympus, Zeiss.
System is compatible with SEMI map formats and can be adapted to different maps (e.g. KLARF, STIF) on request.
Specifications
Three axes, motorized microscope stage. X,Y and R, resolution 1μ and <0.01°
PC based motion controller
High resolution cameras
24″ high resolution monitor
Inspection modes: single die direct access, sequential scan, free, statistical sampling, programmed paths
Complete bin code management
Map type according to SEMI standard, custom formats on request
Map download/upload through TCP/IP
Autofocus for motorized Z axis microscopes
On screen measurement functions
Optional ID reader OCR reader with LED illuminator
Optional SECS-II HSMS and GEM interfacing