Astel is a R&D company, working mainly in electronic design and special systems, able to supply either large volume productions or prototypes and custom systems.
Born in 1994 with the scope of creating a dynamic and young design team, during the years Astel developed important experience and skills, working on many different projects together with important companies and research institutions.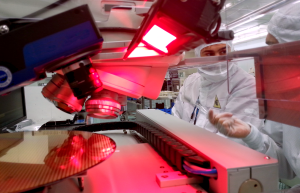 Now Astel can rely on a highly skilled team, where almost all the staff is involved in R&D, together with a number of professionals for special projects.
Our Company mission is to help our customers in their projects in electronics and industrial automation, and build with them a long term cooperation.
We want to grow together with our partners and customers, participating in their production processes and giving them quality, reliability, professional skills, technological innovation and enthusiasm.
Our customers can rely on a deep experience in all the different sectors of our job. All the design activities are done internally, and to assure the best quality and flexibility we constantly invest time and money in innovating the development tools and procedures.
Services
Thanks to our organization we can offer "turn key" solutions, from the idea to the series production, with a constant control on all the job phases:
Preliminary analysis and search of the best design solution.
Analog and digital hardware design.
Printed circuit board (PCB) design.
Firmware development for DSP and microcontrollers (8,16 e 32 bit)
Development of software (on PC and PDA) for control and interfacing
Special mechanical design
For every and each realized product and design, we can supply a full set of
technical documentation either printed and in digital format, including:
Schematics diagrams, BOMs and mounting instructions.
PCB Gerber files.
Fully commented firmware and software sources.
Setup, testing and troubleshooting procedures.
Manufacturing management
In case of high volume productions we rely on partner companies for mechanical working and for electronic assembly. Our purchasing department takes care of electronic devices and raw material supply, tuning and managing all the job tasks; our engineering department controls all the technical aspects and the final inspection.
Technical support
To guarantee the service overall quality we supply an efficient technical after-sale support. We assure a highly qualification and a quick intervention answer.
Certifications
We keep up-to-date on international rules for safety and electrical compliance to the standards. We have a shielded room and the instruments to test our designs for noise immunity, emc compliance and climatic and environmental conditions.
Every design we make, born to pass the severe tests required by international standards as VDE, TUV, SEMI, FCC, IMQ