THERMOCOUPLE INSTRUMENTED WAFERS
Wafer production processes are subject to a number of different conditions and temperature is often a crucial parameter to assure the best results in many of them.
The use of thermocouple instrumented wafers is common when it is needed a process setup in working conditions and then the availability of a good probe is very important to reach the needed performances.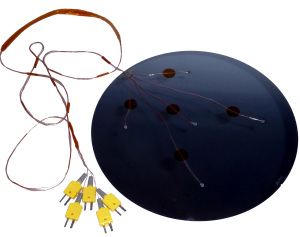 Our thermocouple instrumented wafers are built by annealing thermocouples into wafer surface, mounting them permanently by a cement with thermal features very similar to silicon ones.
We can produce wafers starting from standard substrates or from substrates supplied by the customer, with the needed geometry and thermocouple types.
Some different options are available about working temperature, thermocouple type, wire clad type and mounting. Also special applications such as AsGa or SiC wafers can be supplied on request.