SOLID STATE ILLUMINATORS AND LIGHT SOURCES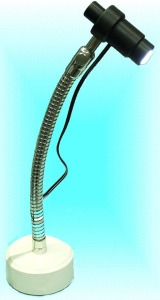 The new line of light sources and illuminators for microscopes and inspection are specially studied to replace conventional light sources.
Solid state sources are featured by constant color temperature, low power consumption and high efficiency.
Many types of illuminators and sources available for microscopy and inspection purposes, with different light colours, shapes and dimensions.
RGB colour adjustable illuminators are also available.
Custom design illuminators available.
Handheld bright light inspection
LED pure green illuminator for wafer inspection
Solid State LED illuminator, with 140 LED sources, 5 mm in diameter.
Pure green (525 nm) LEDs, 8000 lux light intensity and power adjustment.
Light source Kingbright L-7113ZGC-E
Aluminium case with handle, separate 24 Vdc power supply.
Dimensions (approximate) 110 x 130 x 40 mm
Solid state light sources for microscopes and inspection, available in both standard and custom design versions, with different light colors and dimensions.
Special RGB versions available.
Light sources for microscopy applications are normally made with conventional lamps, with or without fiber optics to convey light to the object under observation. Solid state light sources are featured by a number of advantages and can be used in many applications instead of conventional sources. Main advantages of solid state sources are: small dimensions, high light level with low power consumption and no high temperatures and extremely high MTBF. With Semicon Synapsis solid state light sources it is possible to replace cold light fiber optics sources without having bulk light generators. It is also possible to provide portable light sources, with long battery life, for field applications. Many different shapes of light sources are available, and special applications can be developed on request